Understand that when you agree to be a hurdler, or your coach tells you that's what you're doing, there are certain things you need to understand. I have compiled a list of 15 things every hurdler should know. Of course I am probably leaving a few out. Yes the first couple things are boring and dry but the article gets more and more interesting the further down you read. 🙂
1. The distance to the first hurdle:
To be completely honest I forget this at times. But if it a serious situation I know the answer.
100Hurdles
Womens 13M to the first hurdle
Mens 13.72M to the first hurdle
300 Hurdles
Womens 45M to the first hurdle
Mens 45M to the first hurdle
400 Hurdles
Womens 45M to the first hurdle
Mens 45M to the first hurdle
2. The distance between hurdle:
You should have know that was coming.

100Hurdles
300 Hurdles
400 Hurdles
3. The Hurdle Height you Hurdle at
100Hurdles
Womens 33in
Mens 39in, 42in(college and professional)
300 Hurdles
400 Hurdles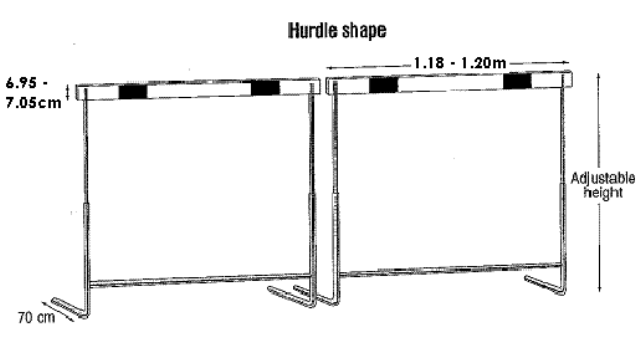 4. The fact that there was once a 200m Hurdle race:
I know right ! Craziness. I wish they would bring it back lol It previewed twice back in the 1900's, 1904 and 1908 to be exact. Didn't gain much popularity so they scrapped it. It would be a fun race to run though… Or deathly horrible ? An all out sprint over 10 hurdles over 200m ???? That would be the ultimate hurdle race !
5. Which Foot goes in Front in the blocks

Your trail leg. There are 8 steps to the first hurdle. Or at least you should be taking 8 steps to the first hurdle.
6. How many steps you take in between hurdle:
The correct answer is 3, 4 or 5. This is dependent upon your level of expertise. Starting off I 4 stepped. So I alternated legs at every hurdle. As I got older and stronger 3 stepping became a lot easier and faster. In the beginning though I pretty much looked like I was bounding to every hurdle. You'll work through that.
7. The fact that you are a sprinter before a hurdler
Let's be real. There is no possible way to hurdle out of the blocks. If you are capable of setting up a hurdle at the first step of coming out of the blocks and successfully running through the hurdle without falling kudos to you. I won't dare try it. #HURDLETRAP
8.The fact that you can take 7 steps to the first hurdle
I think there are only like 7 people in the entire world to do this. I made that number up. I am aware of 3. I figure there are at least 4 more out there that are capable of doing this. Be aware this is really hard to do and the only people I know who are doing it are/were professionals. The margin of error is extremely small. So if you don't hit your first step right out of the hurdles you better hope you hit the next 6 perfect. Conclusion .. just take 8 steps.
9. You don't jump hurdles you Run them
The only people I know of to use the term "Jump Hurdles" are non-trackies. If you are a hurdler and you tell people you jump hurdles I will politely ask you to refrain from associating the word jump with hurdles. Coaches should be teaching you to run through the hurdle. Not jump over the hurdle and then continuing running. Although that is what you pretty much look like when you first start off.
10. You are Going to Fall
Or at least hit a hurdle hard enough to throw you off and stumble through the rest of the race trying to regain balance.. sheesh why do I even Hurdle ! At some point in time your face may meet the ground on account of a hurdle. It's pretty much inevitable. It may be a practice or at a meet. Were that really cute boy/girl you told to watch your race is watching. They will probably laugh like the rest of the crowd but its your job as a hurdler to get back up and finish the race. It is your responsibility as a hurdler to finish. Finish with some dignity. Finish knowing that you had the guts to get up after falling over about 4 of the 10 hurdles. You'll get the pity clap yes. And what do you do with that. You act like your on top of the world when you cross that finish line. Do a little jig if you must. You finished the race and now everyone will know you as the person who finished the race and danced it off ! Remember not everyone is a hurdler. But you're the brave soul that took on the option to run with obstacles in the way. Honestly what other event can say they have the ability to do that ? If your fall is epic enough you might make it to YouTube like the epic hurdle girl fall.
11. You are now agree to be the first one there and the last one to leave (minus heps and decs)
Why? Because you have these things called hurdles that you have to set up and put away. Unless your coach is super awesome and does this for you. Most often that's not the case though. So congratulations you've added about 1 hours to your practice time. The reward of learning how to hurdle is well worth it though.
12. You must Never run under the hurdle
Yea of course it would be fun to do but don't do it ! It takes more time and then if you have the hurdles that have the bar at the base of the hurdle your risk of falling under the hurdle increases greatly. Do you want to be know as that kid who ran UNDER the hurdle and still fell ? I think not.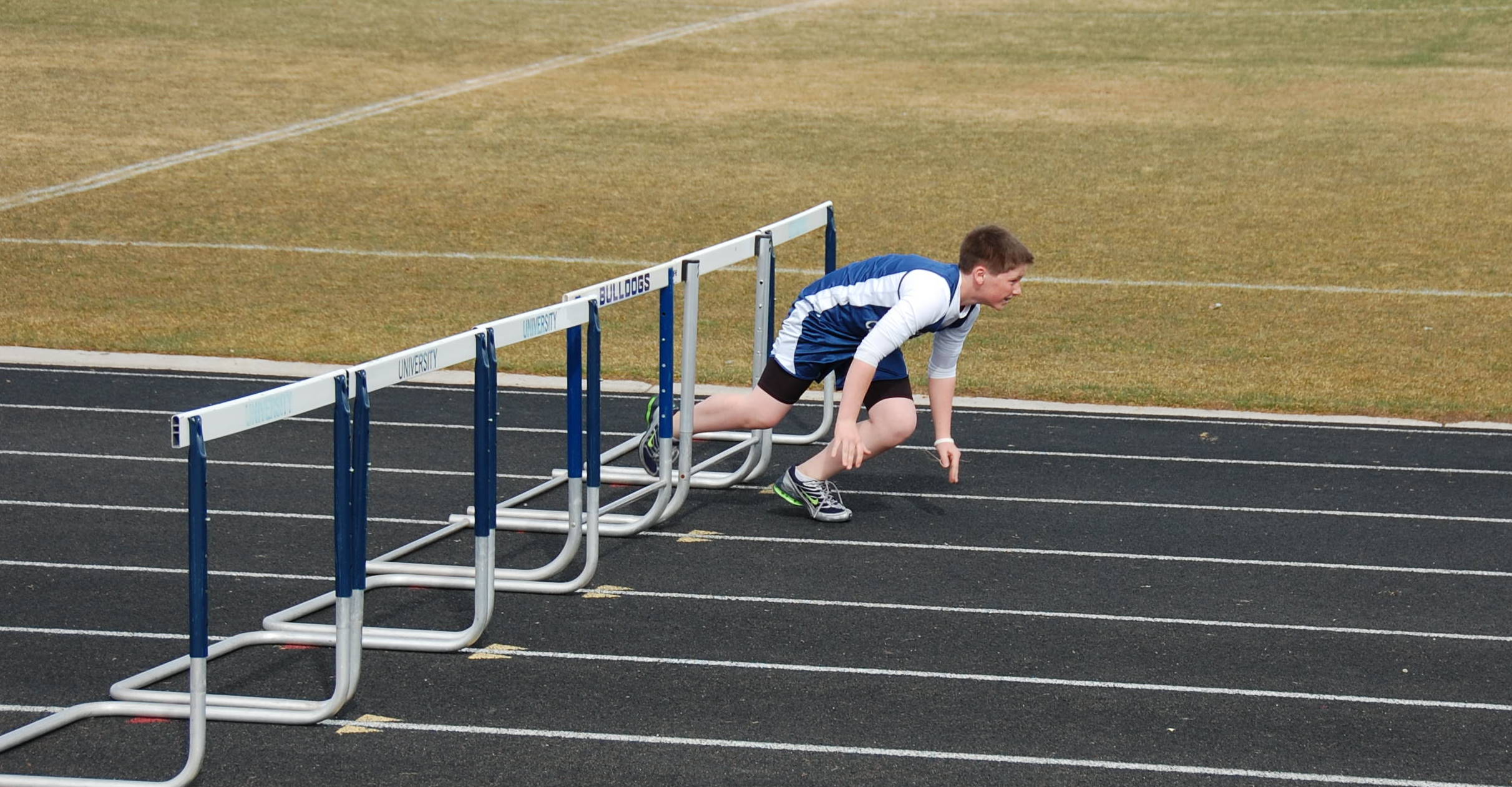 13. Not everyone is a Hurdler
If you're in your senior year and your still skateboard style or ninja jumping over the hurdle after 3 years you may want to invest your time in long jump or even high jump. You might be better at it. Or even find a different coach that can teach you how to hurdle properly. Now if this is your first year that's a different story. Not everyone is a hurdler. Accept it and move on. Your calling in track and field is needed elsewhere.
14.Women run the 100 Hurdles not 110
Ugh. This has got to be the most annoying thing every ! Sheesh I know women for some reason to the mass appeal are not that interesting in sports but come on ! There is no 110 sprint !!! It's the 100 .. so why not just pick 100 as your default answer for hurdles ?
Person: So what events do you do ?
Me: I run Hurdles
Person: oh you jump hurdles… nice.. what ? the 110 ?
Me: No the 100… men run 110
15. You're Awesome
why ? because your hurdler. And despite the everyday struggle of #HURDLELIFE you wake up everyday or at least every other day excited to hurdle. Why ? because it's something you love and your good at. No one else on the track can do what you do other than fellow Hurdles. And when your old and decrepit you can tell your grandchildren how awesome of hurdler you were back in the day. So with that Hurdle on my friends.