Oh how I love the lil' one dearly..
Yes the little sister is bigger than the big sister…
Go figure !
Today I pay tribute to the lil one.
Check out her guest post below !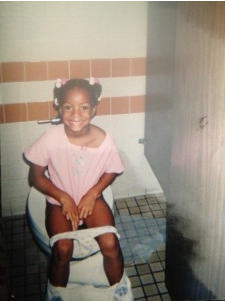 This is Me when I was little! A Sweet little innocent girl! I believe this picture was taken on my 6th or 7th birthday at chuck e cheese! A birthday I will never forget! My parents were obviously there, my one and only sister came, all of my friends from school and gymnastics came, lots of family members! Aunties and Uncles, Cousins as well. My friends from gymnastics were there and it was just a huge celebration all for me! I remember my mother asking me to take a pic with Chuckee, but I was just too scared and as soon as I got up real close to him I ran away! After the failed attempt of my mother trying to get me to take a picture with Chuckee, her and my father decided that maybe it was time to have cake and ice cream. So, back at the party table, stood all my guests and everyone wanting to celebrate MY birthday! However, I have a cousin, whose birthday was two days after mine, so instead of me getting to blow out my own candles, I had to share. Which I didn't like! Especially since she was older than I. She is the same age as my sister, and I was the youngest member of all of my cousins!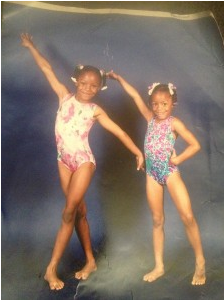 As I mentioned up above, my sister and I started sports as soon as we were able to walk. Gymnastics was one sports that we did together, at the same time. However, since I was younger, she started before I did. If you haven't already noticed, im the one on the right hand side, and my sister is on the left. I am literally ALL LEG with a little body! I continued gymnastics long enough to learn how to do a basic back tuck and back handsprings, and cartwheels, and aerials, and round offs! Surprisingly I can still do all of those things! But Maybe because I stopped gymnastics to begin cheer-leading, and I was a cheerleader up until my sophomore year of high school, which is when I began to take track a lot more serious than I had been.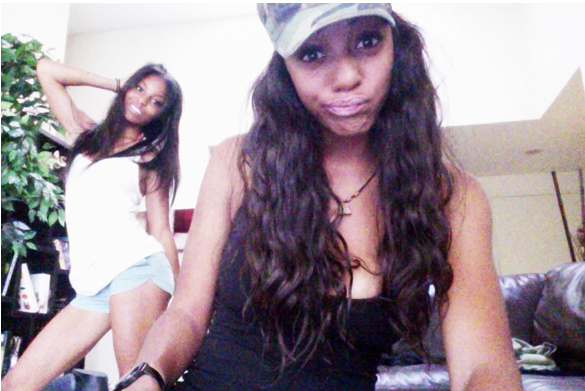 Here is a picture of me now! With my beautiful sister in the background! Living together and happier than ever! Hopefully you've gotten an insight about what my life was like, #WhenIWasLittle 🙂