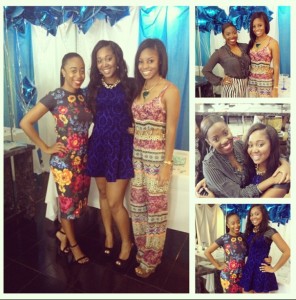 This weekend I got a taste of what it is like to be a maid of honor. Lets just say that little plan that I made three months ago somehow was executed "exactly" how I wanted it to go. Of course there were some minor changes… like… the theme was no longer Hawaiian, there were no hula dancers serving hors d'oeuvres, scratch the live band that was supposed to play mellow music in the back ground and add my mom with the Beats by Dre as the DJ and lets just host it at cute boutique. Even though I planned this lavish party a few months a head of time I'm glad none of that plan actually worked out. I feel as though it would have taken away from the actual purpose of a bridal shower. I guess during planing I was referencing Bridesmaids.. you know the movie about the tasks that the maid of honors  are supposed to carry out.  Yea… boy does that movie skew the perception of what an actual bridal shower looks like.
Waking up at 830 that morning to prepare for the bridal shower that was taking place at 1 was easier than normal.. kind of like today. I told myself I wanted to wake up at 630 last night and I did… wierd.. but newayssss….. somehow we accomplished everything in a 3 hour span of time before the shower started. I say 3 hour because yes the original plan was to wake up and leave at 9… did that happen ? NO ! lol but we still got everything done and set up.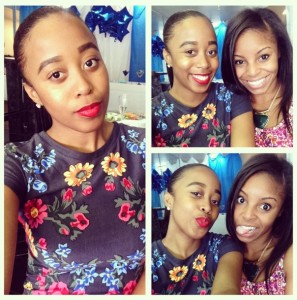 With the shower starting at 1, of course you plan for people to be late (weird that you would plan for people to be late but we did)… not this shower lol aunties were rolling in like clock work and we were putting the finishing touches on everything… still dressed in the clothes we had on while we were running around.. the "we" I am referring to is Clinay.. the other maid of honor …  That probably reads horrible but wuteves lol! Of course the aunties understood we needed to change so to the changing booth we went and "glammed" out in less than "10 min".
Guest arrived. Made plates. Sat down and mingled…
Games we played …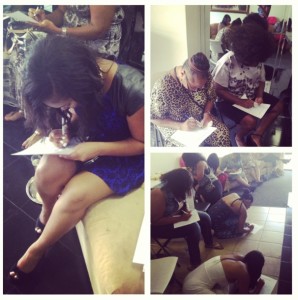 The typical purse raid… lmao the other maid of honor was actually going to raid the purses of everyone.. hahahaha instead of having them pull out the items we had on our list… considering I was in charge of the games and didn't exactly tell her how they were to be played that was pretty funny. But like in any purse raid people always want to argue over whether something qualifies as an item lol It was a fun game…
Word Scramble.. long story short one of the words was the brides babies name and she didn't get it right…
He Said, She Said…short story short lol the bride has no idea what she says on facebook.. she also got a lot of her phrases wrong… lmao
Advice for the Bride… now this was interesting. The advice given was ummm.. how do you say this.. IDK .. lets just say it was interesting… and leave it at that…
Love Story… Oh man love story was hilarious ! If you haven't played this game before you should ! Pretty much everyone writes a sentence down and after everyone has written a sentence the story is read out loud. Conclusion of the story.. the bride now has 4 kids.. an even bigger booty and more sex… Title of the story was clappers… That should give you some insight on the advice that was given lol
The most amazing gifts were given.. thanks to yours truly and the other maid of honor… People ate, had fun, laughed, drank and partied. Which all sound like the formula of a successful bridal shower…. Now for the bachelorette party…. AAaaayyyeee !